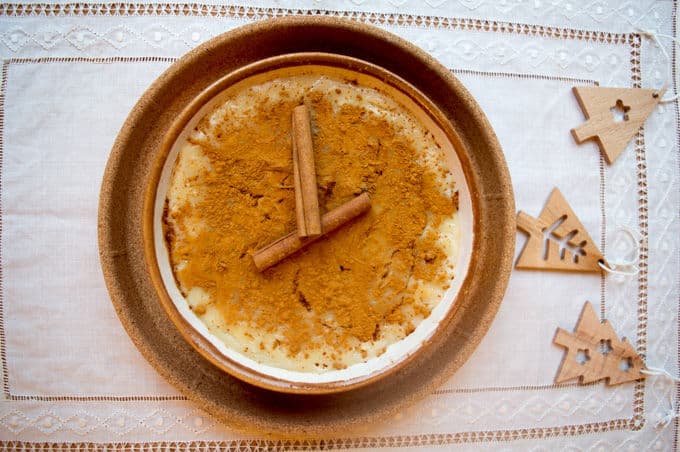 Aletria has a special place in the Portuguese Christmas dinner table. Much like rice pudding, this vermicelli pudding is a sweet, soothingly soft and creamy treat everybody loves.
My little gift to you this Chrismas is a lighter version that is also gluten and dairy free. Merry Xmas, everybody! 🙂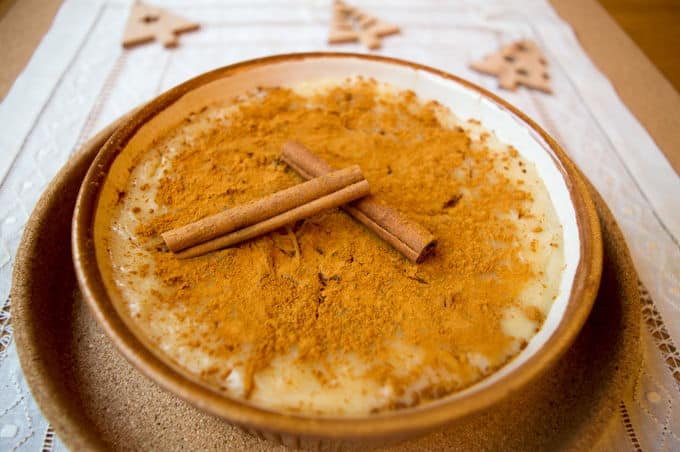 Aletria is made with thin pasta like vermicelli, angel hair or capellini. It has sweet aromatic fresh flavors of cinnamon and lemon. This is one of my favorite Xmas desserts and I am happy to share my sensitivities friendly version with you!
I am also very happy to announce that from now on I will also have all my recipes in Portuguese. You can find them at the end of the posts. It is a natural step after the request of several Portuguese and Brasilian readers. So here it is, guys, receitas em Português 🙂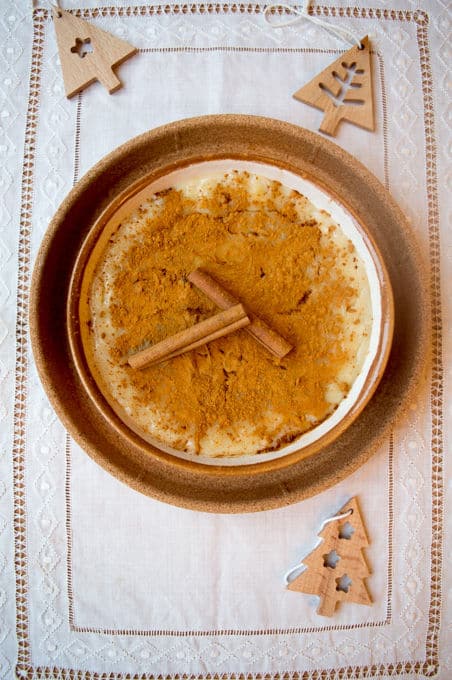 Portuguese Vermicelli Pudding (Aletria)
Ingredients
5.3oz (150gr) rice vermicelli noodles (rice capellini or rice angel hair pasta)
3 cup (660ml) water
1 cup (220ml) + ½ cup (110ml) rice milk
2 egg yorks
½ cup (100gr) granulated sugar
pinch of salt
1 tbsp vegetal butter
1 big lemon peel
1 cinnamon stick (or 1 teaspoon ground cinnamon)
Ground cinnamon for dusting
Instructions
Blend in the egg yorks in ½ cup of milk, mix well and set aside.
In a saucepan over medium-high heat combine the water, milk, sugar, salt, butter, lemon peel and cinnamon stick and gently stir with a spatula until boiling.
Reduce heat and let it simmer for about 5 minutes for the flavours to blend in.
Discard the cinnamon stick and lemon peal and bring again to a boil.
Add the vermicelli noodles and gently stir for about 10 minutes or until cooked and creamy. Please note that the mixture must be a bit thick, so you can overcook the pasta.
Remove from heat, stir in the egg yorks mixture and combine well.
Pour the mixture into a serving dish on low bowl and dust with cinnamon.
Serve cold. If necessary place the aletria in the fridge to firm up.
Notes
lowFODMAP diet note: use ground cinnamon to sprinkle with moderation
Receita em Português:

Aletria
Ingredients
150gr (5.3oz) vermicelli de arroz (ou massa capellini de arroz)
660ml (3 xícaras) água
220ml (1 xícara) + 110ml (1/2 xícara) leite de arroz
2 gemas de ovo
100gr (1/2 xícara) açúcar granulado
pitada de sal
1 colher de sopa de margarina vegetal
1 casca de limão, grande
1 pau de canela (ou 1 colher de chá de canela em pó)
Canela moída para polvilhar
Instructions
Bata as gemas de ovo com ½ xícara de leite até incorporar e reserve.
Numa panela em lume médio-alto juntar a água, o leite, o açúcar, o sal, a margarina, a casca de limão e pau de canela e mexa delicadamente com uma espátula até ferver.
Reduza o lume e coza durante 5 minutos para que os sabores se misturem.
Retire o pau de canela e a casca de limão e deixar ferver novamente.
Adicione a massa, mexendo delicadamente durante aproximadamente 10 minutos ou até ficar cozida e cremosa. Por favor, note que a mistura deve engrossar e por isso é normal que a massa coza mais do que o normal.
Retire do lume, adicione os ovos batidos com leite e misture bem.
Coloque a mistura num prato de servir ou numa tigela baixa e polvilhe com canela.
Sirva fria. Se necessário, coloque a aletria no frigorífico para ganhar consistência.
Notes
Dieta lowFODMAP: utilizar a canela para polvilhar com moderação.
You Might Also Like